Your Satisfaction is Our Top Priority
Hubert Lowe Inspections
Home Inspections in Brunswick County, NC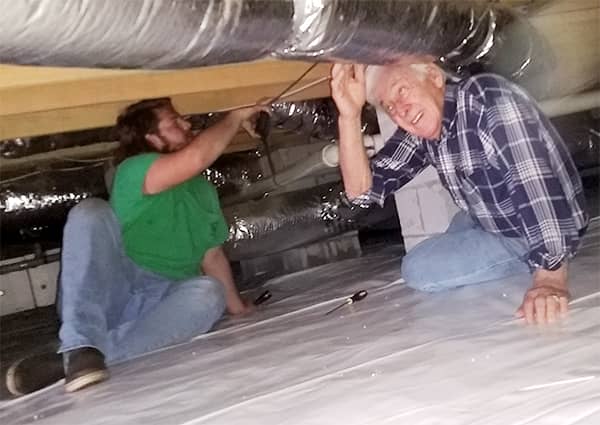 Two Licensed Inspectors for the Price of One
Most home inspection companies rely on a single home inspector to catch every potential issue. At Hubert Lowe Home Inspections, we understand that even the very best inspectors sometimes miss things. To avoid this, Hubert and Nathan will both be at every residential home inspection. You'll get twice the service for the same competitive price!
Our Brunswick County Home Inspection Services
Our home inspection team has completed more than 8,400 inspections. During the past 17+ years, we've also built a service menu that can fill all of your home inspection needs. Whether you're a buyer, seller, lender, insurer, or agent, our experienced team can help!

Choose from one or more of the following services: 
Buyer's Home Inspection

Pre-Listing/Seller's Home Inspection

New Construction Home Inspection

New Construction Phase Inspections

11-Month Builder's/Warranty Inspection
4-Point Inspection 

Loan Draw Inspections

Re-Inspection

Mold Inspection

WDO/Termite Inspection

Air Quality Testing

Moisture Inspections

Crawlspace Inspections 
Wonderful company,
Hubert and his wife were very thorough and accurate in inspecting our home. We had our written report in a very timely manner. They are very knowledgeable in their business and were a pleasure to deal with.
– C.M., June 2016
I want to thank you
and your team for the detailed inspection you undertook and also for the time you spent with me explaining the HVAC system and other components of the house to me. If anyone should ask me to recommend a home inspector I will most certainly recommend you without hesitation.
– W.U., February 2017
Create Request List™ Provides Time-Saving Benefits
Each home inspection customer will get free access to HomeGauge's Create Request List™. This online service is a great way to save time and reduce the stress of compiling a repair addendum. Review each issue on your inspection report and add the necessary ones to your repair addendum with a simple click. No more copying and pasting!
Each Inspection Completed Quickly and Accurately 
Are you dealing with a time crunch? Having two experienced, professional home inspectors enables us to provide high-quality, accurate inspections in half the time!
HERE TO ACCOMMODATE YOUR NEEDS
Our team is fully trained in a wide variety of areas, ranging from home inspections to mold inspections. Hubert Lowe Home Inspections is a local, veteran-owned and operated company that's been helping people just like you for 17+ years. Our commitment to customer service includes:
All reports are returned within 24 hours.
Have a question about your report? Call us anytime, even if your inspection happened months ago!
Hubert Lowe Home Inspections Service Area
We proudly inspect homes throughout Brunswick County, NC. Cities in our service area include Oak Island, Southport, St. James, Supply, Bolivia, Shallotte, Holden Beach, Ocean Isle, Sunset Beach, Calabash, and Leland.
Hubert Lowe Inspections
Schedule a home inspection today!
ADDRESS
4 Deerwood Circle
Oak Island, NC 28465